Regular price
Sale price
$6.59
Unit price
per
Sale
Sold out
L3VEL3 Hair Croc Clips – 4 Pack
Our croc hair clips keep locks out of the way while you work your stylist magic.
Hair comes in all types and textures – and some just refuses to be tamed. Regular clips aren't big or strong enough to hold back thick, curly, and unruly hair. Without good grips, you find cutting, styling, and performing detail work a struggle. So to handle epic locks, reach for these crocs. Our croc hair clips have a unique double hinge to secure fine or thick hair in place. The matte finish provides an anti-slip grip even when you're wearing nitrile gloves. And with four clips in the pack, you've got your client's covered. 
Key Features
Pack of four croc clips for sectioning hair during cutting and styling
Innovative double hinge design for excellent grip on all hair types
Anti-slip matte finish makes the clips easy to work with
Compact and lightweight but they stay durable, use after use
Washable and reusable, making them an economical choice
Why It's a Game-Changer
It's hard to do your cut 'n' style thing with random sections of hair in the way. But with our capable croc hair clips, you can part and control even the thickest, wildest hair. These small-but-mighty clips grab and hold your client's hair but don't damage the strands. With the hair neatly sectioned, your view will be clearer, and your work will be more precise.
As hair clips for styling and sectioning go, ours are the cream of the crop. They feature a unique double hinge that can adapt to different hair types, plus small teeth inside long jaws for outstanding grip. Ergonomically designed with an anti-slip finish, they're easy to hold, press, and release. You won't fumble and drop these clips, even if your hands are wet or you're wearing nitrile gloves. The matte black finish also looks pretty darn professional. 
Additionally, our barber hair clips make for a cost-effective choice. There are four in the pack, which is handy when you're dealing with an insane amount of hair, or when you lose a couple in your cluttered drawer. The clips are washable too, so you can reuse them time after time without any hygiene concerns.
The key takeaway? Our croc hair clips may not look like anything extraordinary. So small, so grippy, so what? But with their multifunctional design, they'll lowkey revolutionize the way you section and style your clients' hair. Use them when cutting, coloring, blow-drying, and straightening all types of hair and you'll see the difference in your work.
Pack includes 4 clips. Each clip: 4.25" L x 0.65" W. 
How to Use
Place your thumb on the indented pad at the end of the clip
Press down to open the jaws ready for use
Gently slide the clip into the hair to create a neat section
Works Great With…
A precise part or hair section starts with a superior comb. Pick up our 9-Piece Barber Comb Set to wrangle your client's hair into place before securing it with a croc clip. Adding color to the mix? Apply the dye with our Tint Brush Set for a meticulous and mind-blowing finish.
Share
View full details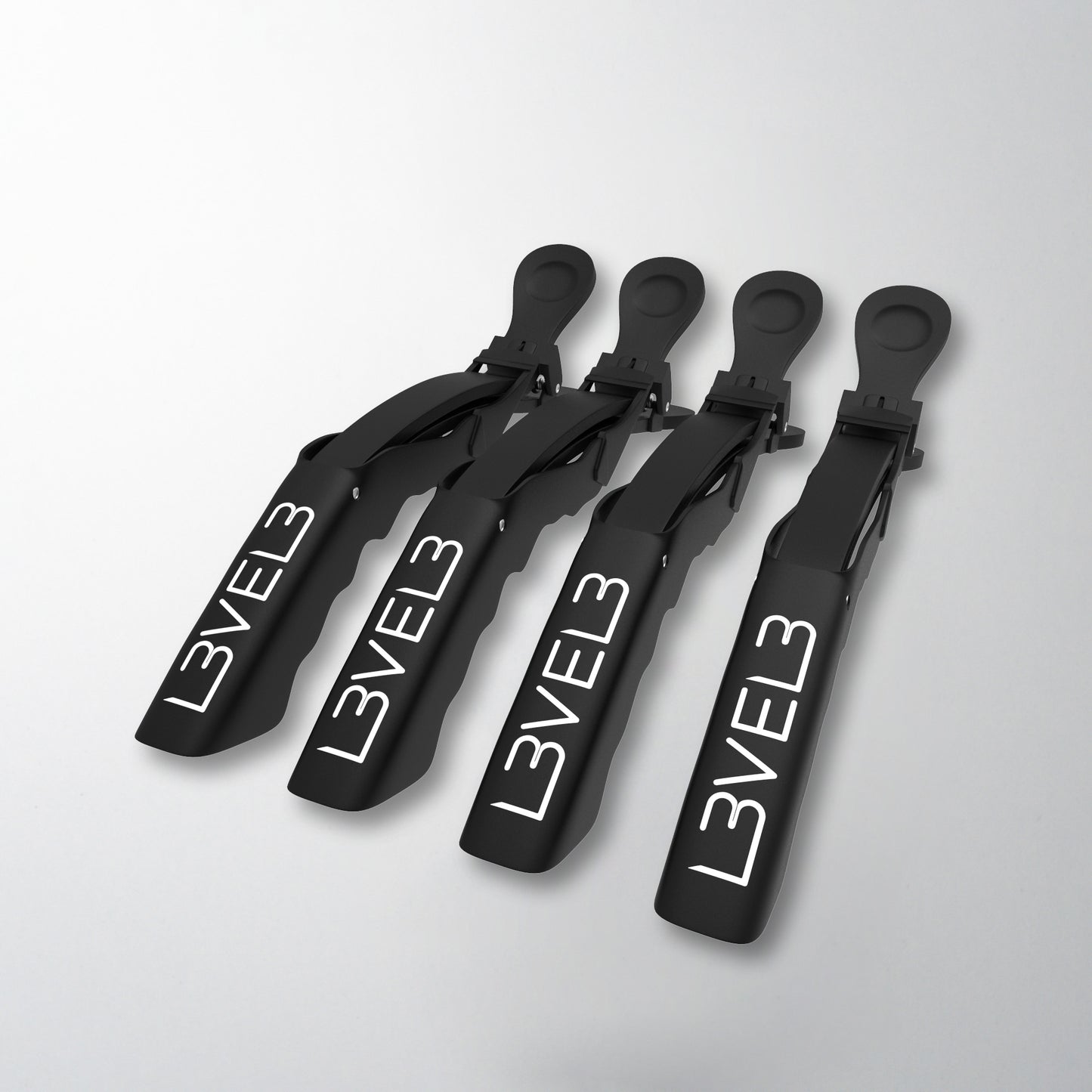 Choosing a selection results in a full page refresh.
Opens in a new window.