Regular price
Sale price
$26.39
Unit price
per
Sale
Sold out
L3VEL3 Professional Rubber Neck Cutting Cape
An essential, elevated. Our rubber neck barber cape offers superior protection for clients.

If you're a barber or hairstylist, it's the little things that set your service apart. Clients always appreciate attention to detail, especially when it comes to protection and hygiene. While a regular cape is protective enough for most haircuts and shaves, if you're working with dyes or bleach, it's time to take things up a notch. That's where our rubber neck cutting cape comes in. It features an innovative rubber neck ring that prevents stained clothing and stops hair from getting under your client's collar. The cape itself is made of waterproof and chemical-resistant polyester for the ultimate shield against drips and spills.

Key Features

An essential cape for covering your client's clothes during their haircut
Made of polyester that's resistant to water, color, bleach, and chemicals
Features a rubber neck for the ultimate in client protection and comfort
The rubber ensures a secure fit so no loose hair or chemicals can penetrate
Lightweight but quality-made to uphold your professional salon standards
Why It's a Game-Changer  
For next-level protection against loose hair and chemicals, choose a cutting cape with a rubber neck. Our version is made to professional standards, featuring a rubber neck ring on a durable, highly-protective polyester cloak. It sweeps on and stays put, protecting your client's skin and clothing while you work. The rubber neck is hard-wearing but comfortable and can easily be adjusted to fit different neck sizes. Whip out this cape and your client will know he's in for first-class service with all the details covered.

Our design outperforms all other barber gowns with rubber neck rings. It combines the protection and comfort your clients want with the durability you need. The rubber collar sits flush against the neck, effectively creating a barrier that stops hairs and chemicals in their tracks. The rubber is flexible though, so you can adjust the neck to fit clients of all ages and sizes. This cape puts an end to the drama and discomfort of an itchy neck and stained shirt, ensuring your clients enjoy their time in the chair.

The haircutting cape itself is made of lightweight yet high-quality and high-performing polyester fabric. It provides superior protection against water, dyes, bleach, and other hairdressing chemicals. The cape is large enough to cover your client's clothing from shirt to pants, so he can relax knowing his threads will stay pristine. Any hairs that fall during cutting will simply glide off the fabric, making clean-up much easier.

Our professional barber cape is available in black and white to match your shop's vibe. The rubber neck and the waterproof and chemical-resistant fabric are the ultimate defense against irritated skin and stained clothing. This cape is so innovative and practical, you'll use it every day when cutting, coloring, bleaching, or spraying products.

Dimensions: 55.5" W x 58" L

How to Use

Sweep the cape over your client's front
Adjust the neck for a comfortable fit
Get to work, knowing your client is fully protected
Works Great With…
If sweat, liquids, and stains are of particular concern, stick a Neck Strip underneath the cape. These self-adhesive, highly-absorbent paper strips provide an extra shield against dyes and loose hair. To cover your own clothing, slip into our Professional Apron that protects against splashes and prevents stray hairs from sticking. You'll look the part, guaranteed.
Share
View full details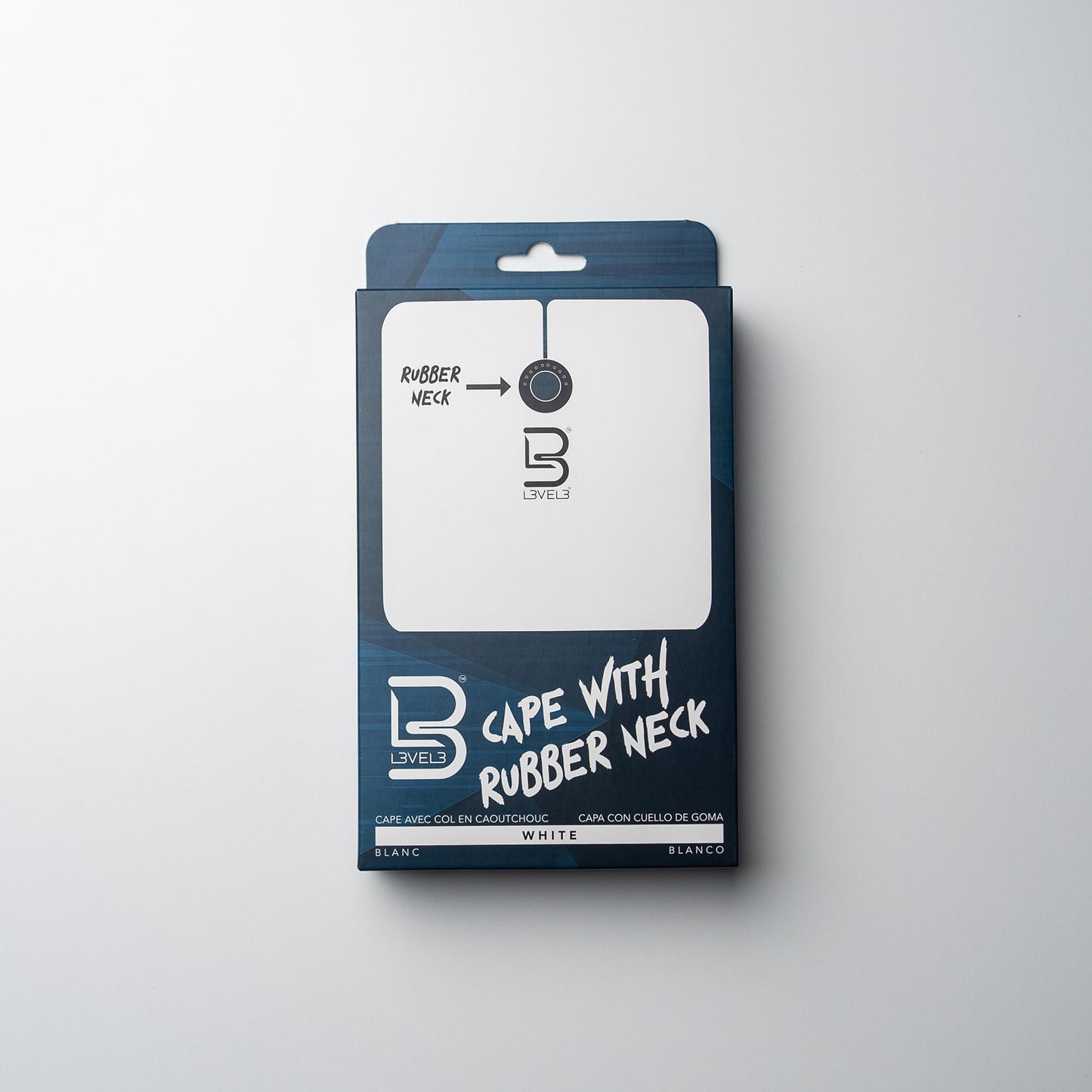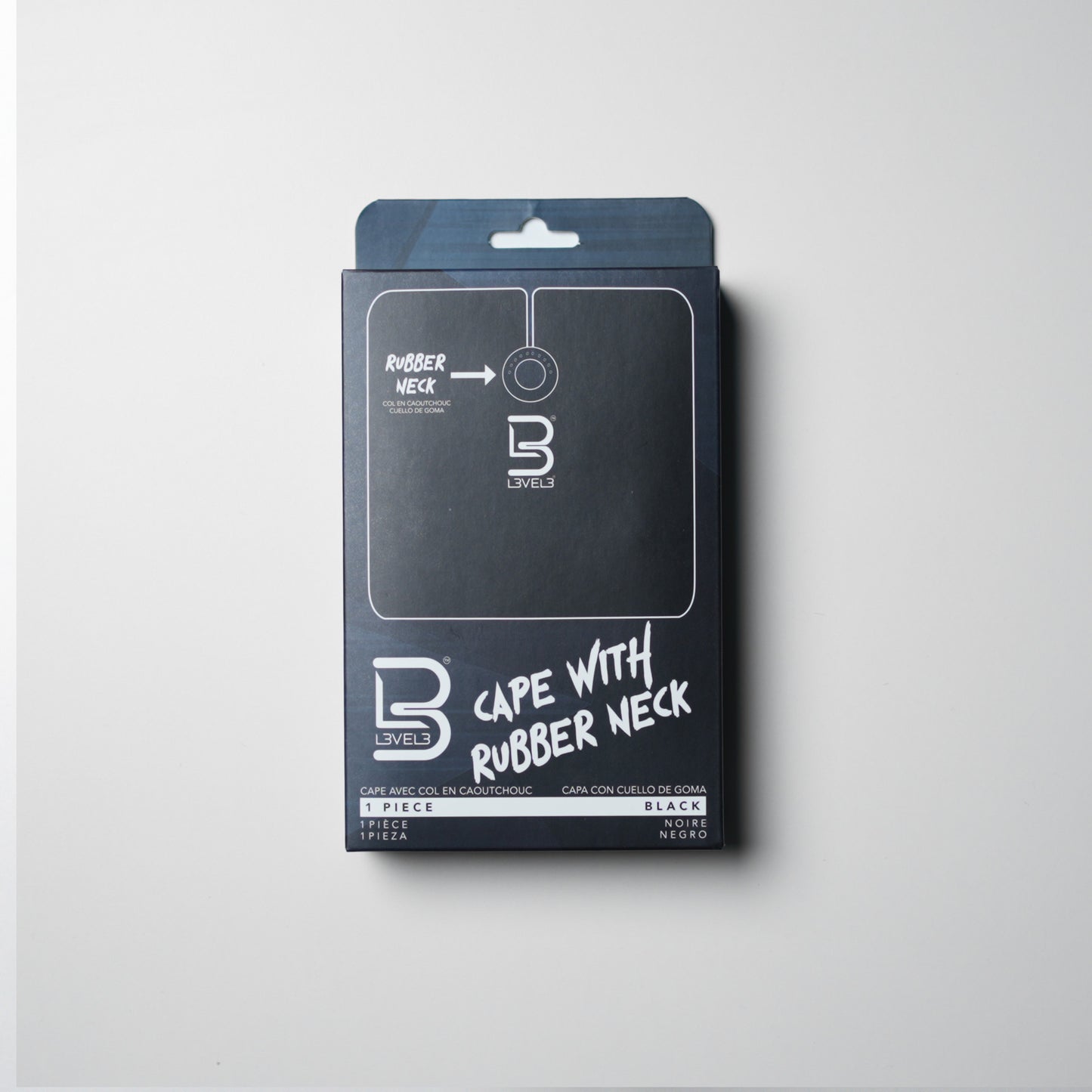 Choosing a selection results in a full page refresh.
Opens in a new window.